Statement from Senator Wiener and Assemblymember Gloria on Pride Month 2020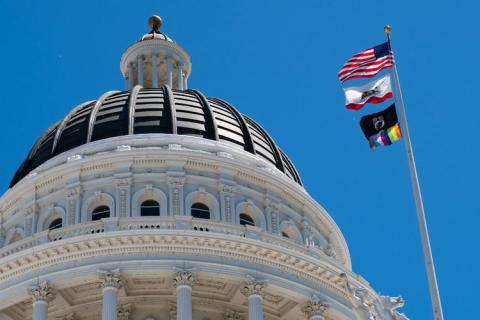 Statement from Senator Wiener and Assemblymember Gloria on Pride Month 2020
Sacramento - Today, Senator Scott Wiener (D-San Francisco), Chair of the California Legislative LGTBQ Caucus, and Assemblymember Todd Gloria (D-San Diego), Vice Chair of the California Legislative LGBTQ Caucus, released the following statement:
June 1st officially marks the beginning of California's Pride Month, during which we celebrate and uplift LGTBQ culture and community. Since the passage of AB 2969, authored by Assemblymember Evan Low (D-San Jose) in 2018, each June is officially designated Pride Month in California, though Pride Month has been celebrated in our state for decades. This year's Pride Month comes at a challenging time: we are living through a global pandemic, and jus last week, we saw another deadly reminder of the deep, structural racism embedded in our society when George Floyd, a black man, was murdered by a police officer in Minneapolis.
Pride marks the anniversary of Stonewall, which was led by black trans women against police brutality and repression of the LGBTQ community. We are thinking of the first Pride – deemed "radical" by many – in this moment, during which so many are taking to the streets to express their grief and rage.
In honor of Pride month, Governor Gavin Newsom will raise the LGBTQ Pride flag over the Capitol.
Senator Scott Wiener said: "This Pride Month, due to COVID-19, we'll be celebrating Pride virtually because of the COVID-19 pandemic. We're also mourning the death of George Floyd. Let's never forget: even in our moments of celebration, massive work lies ahead to create a world of justice and equity for all. And, even in our deepest despair, there is a light at the end of the tunnel, as long as we're willing to fight to get there."
Assemblymember Todd Gloria said: "While Pride looks different this year, we must remember that our pride as LGBTQ people endures far beyond parades, concerts, and festivals. The source of our pride lives in who we are, the bonds we share, and the progress we have made collectively. Pride Month comes during a challenging time in our nation with COVID-19 and the deaths of George Floyd and too many other black people. Once again, we are reminded that the fight for true justice and equality is still ongoing. We will stand in solidarity with our Black community every day until the fight is won."
Governor Gavin Newsom said: "As we officially kick off Pride Month here in California, we honor the resilience of LGBTQ Californians, and in this challenging moment for our nation, also recognize the struggles of so many of our state's diverse communities. While COVID-19 is preventing Pride celebrations from happening as they normally would, we still celebrate the progress we've made toward equality and commit ourselves to the important work that lies ahead."